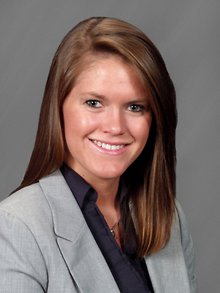 CONTACT EMAIL
MEKENZIE HORD
Communications Manager
Mrs. Hord is B&D's first communications manager. She graduated from University of Florida, where she studied advertising in the College of Journalism and Communications with a concentration in business. She was a member of the University's Ad Society, through which she attended numerous events comprising various facets of the advertising world. While in school, she completed an advertising internship at The Dalton Agency, where she worked in account management. After graduation, she was retained by Bozzuto Management Company, where she did sales and leasing in the luxury high-end residential industry, and also worked on various marketing outreach programs.
Mrs. Hord was hired by B&D to serve as its first business development and marketing coordinator. In this role, she focused on developing relationships with editors in leading industry publications, participating in industry networking events, identifying advertising opportunities, coordinating and managing the firm's conference presence, and providing support on proposal writing. A three-time B&D intern during her college years, through which she performed market research for university clients, she brings a deep understanding of the firm as well as broad knowledge of the business development and marketing industry.
Presented by Jeff Turner & Mekenzie Hord at the 2018 ACUHO-i Conference.